As the country celebrates National Nurses Month, the National Health Service Corps (NHSC) honors the more than 6,000 nurses currently serving and the thousands of nurses who have served. Their commitment to underserved communities helps to fill a critical shortage of providers and reduces the gap that still exists in some areas of the country between millions of patients and access to quality primary medical and behavioral health care – including treatment of substance use disorders and maternal care.
NHSC Alum Family Nurse Practitioner Margaret Flinter, Class of 1980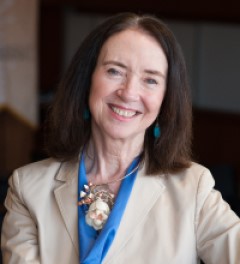 NHSC alum Margaret Flinter is a family nurse practitioner who was attending the Yale School of Nursing when she received her NHSC Scholarship Program award. Now at Community Health Center, Inc. (an NHSC-approved site) and its Weitzman Institute for 42 years, we spoke to her about her experiences in the Corps and what shaped her more than four decades in primary health care in a high-need area.
How did you learn about the NHSC?
[In] 1978—I saw a flyer on a bulletin board at the Yale School of Nursing. Years later, I read the Dance of Legislation about the history of the legislation that formed it [the National Health Service Corps] and was amazed—to think I might have missed it!
Tell us about a memorable moment or milestone in your experience with the National Health Service.
I became an NHSC scholar during my time as a student at the Yale School of Nursing, but it was in the months following graduation, as I visited community health centers around New England as potential organizations to join, that I began to get the full sense of what the Health Center movement and the NHSC was about. That sense of being part of a movement never left me.
Tell us about an experience that reminds you of why you continue your service.
It's the experience of more than 40 years that reminds me of why I continue. Generation after generation of new nurse practitioners, physicians, PAs [physician assistants], behavioral health specialists, and dentists have joined our Health Centers via the Corps with the same sense of commitment to cause, belief in the power of health care as a right, not a privilege, and desire to care for people. It is part of the fuel that continues to power access to health care in this country.
How do you foresee the NHSC's need in 10 or 20 years? In what direction do you want the Corps to go?
I would like young people to know up front, as they make their education and career choices, that there are no financial barriers to pursuing their dream career as clinicians and that the NHSC is a clear path for them to first learn and train with the financial support of the Corps, then to return that support through practice and service. I hope the NHSC leadership will focus more efforts on building a sense of community among all Corps scholars and LRP recipients, both during their service period and afterwards.
Is there anything you'd like to share in honor of NHSC's 50th Anniversary?
On the occasion of the 50th, I want to remember and honor the legacy of the late Fitzhugh Mullan, who was the Director of the NHSC when I graduated from YSN and began my service period at the Community Health Center, Inc.
What advice do you have for the next generation of NHSC members?
I'm more interested in learning from the next generation of NHSC members than giving them advice!
But my advice to both the NHSC leadership and the next generation of members is to emphasize that being a member or an alum of the Corps is a "forever" kind of membership—like Peace Corps or the military—that gives you a common bond with people all over the country with whom you have a shared experience and the potential to continue to make an impact on this country.
Key NHSC Nurses Facts
More than 6,000 nurses make up the NHSC's largest discipline serving more than 6.3 million patients across the nation.

Of the more than 5,400 nurse practitioners serving in the NHSC, about 70% are primary care nursing professionals and one in three provides mental and behavioral health services.
More than 38% of NHSC nurses, including nurse practitioners, certified nurse midwives, psychiatric nurse specialists, registered nurses, and certified nurse anesthetists, serve in a rural community.
The number of NHSC certified nurse midwives (CNMs) who provide obstetric care in rural communities and other areas of the country where access to such prenatal and postnatal care can be severely limited grew by 18%.